"Black Fungus is No More Black – Precaution is Better than Cure" says Dr. Arunaloke Chakrabarti, President, International Society for Human and Animal Mycology at Amity University Haryana
In India, COVID-19 has led to a surge in cases of a potentially fatal fungal infection called mucormycosis, popularly known as "black fungus." The infection is every bit as dangerous as the media have portrayed it, but several myths are circulating on social media about potential sources of the infection and its treatment. Amity University Haryana organized a webinar on "The Myth and Facts of Black Fungus and Covid-19", delivered by Eminent Scientist Dr. Arunaloke Chakrabarti MD, Dip NB, FAMS, FNASc, FIDSA, President, International Society for Human and Animal Mycology on 12thJune 2021.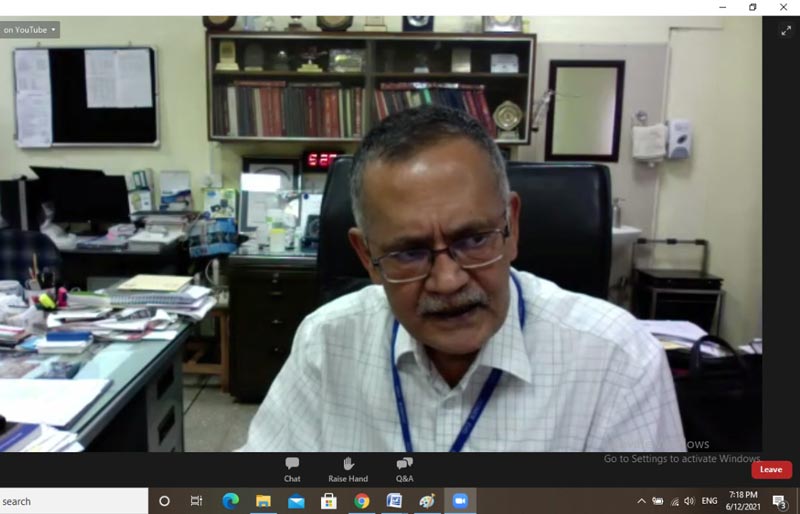 Mucormycosis is basically a fungal disease. It doesn't affect common people, it only infect people who are immunocompromised, which means if their immunity is low. Talking about the increase in black fungus cases in COVID scenario – it is because to treat the COVID patients we are using steroids which is causing an increase in sugar levels of the patient, and people who are diabetic are anyways at higher risk from this infection. We are also seeing more cases of this in transplanted patients, who have their kidney, lungs transplanted or who are suffering from cancer, HIV.
Dr. Arunaloke Chakrabarti while delivering his keynote address said that there is no need to be panicked by this disease and overuse of steroids and reduced immunity due to COVID-19 are the major cause of mucormycosis. They have now streamlined the drugs which needs to be give and what stage.
Hon'ble Chancellor of Amity University Haryana Dr.Aseem Chauhan with his highly inspiring Words of Wisdom emphasized that, we now need to focus on fungal disease and have a specialized ward for fungal diseases in the hospital.
Prof. P. B. Sharma, Vice Chancellor, Amity University Haryana while delivering his opening remarks said, its really getting confused on different names of fungus and the way media is highlighting this disease. Proper information should be given to public so that all the myths related to this disease get removed.
The convenor of the webinar was Prof. Rajendra Prasad, Dean, Faculty of Science Engineering and Technology, AUH; The coordinator of the program were Dr. Machiavelli Singh and Dr. Amit Kumar Pandey, Amity Institute of Biotechnology for which excellent IT support was provided by Prof.  J.S. Sodhi, AUUP and his team.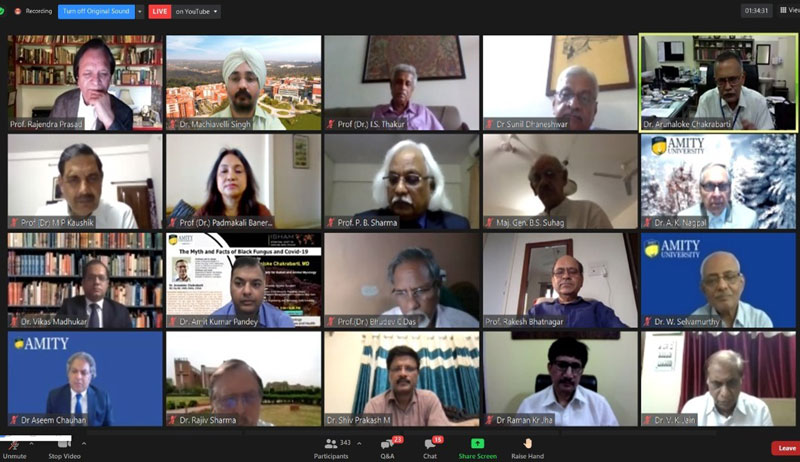 The distinguished scientist among the panelist were Prof. Rakesh Bhatnagar, Vice Chancellor, Amity University Rajasthan, Dr. W.Selvamurthy, President, Amity Science,Technology and Innovation Foundation, Dr. Ajit K. Nagpal, Chairman Amity PACIFIC Forum, Prof.Padmakali Banerjee, Pro Vice Chancellor, AUH, Dr Shiva Prakash Rudramurthy, PGIMER, Chandigarh, Prof. Rajendra Prasad, Director, AIB, Prof. I. S. Thakur, Dean Environment Sciences, ASEES, and Prof. B. C. Das, AIMMSCR, Noidawere present during the session online. More than 400 faculty members, researcher scholars and students from research institutions, university, colleges and schoolsactively participated in the webinar and asked the queries and clarified their doubts about the spread of pathogenic black fungus and management of this deadliest disease. To carry this initiative forward, a series of webinars focusing on COVID-19, pathogenicity and vaccine technology in specific specialties are planned in the near future.